THIS POST MAY CONTAIN AFFILIATE LINKS, MEANING I GET A COMMISSION IF YOU DECIDE TO MAKE A PURCHASE THROUGH MY LINKS, AT NO ADDITIONAL COST TO YOU.
I recently restyled this bookshelf in our living room and I love how they turned out! Styling shelves can be a tricky process, but also one of the most rewarding things to decorate in my opinion. It takes a lot of thought, a lot of trial and error, and a lot of stepping back and staring at your work to see what works and what doesn't. Here are some photos of our current living room bookshelf styling and a few tips I've learned along the way when it comes to how to style shelves!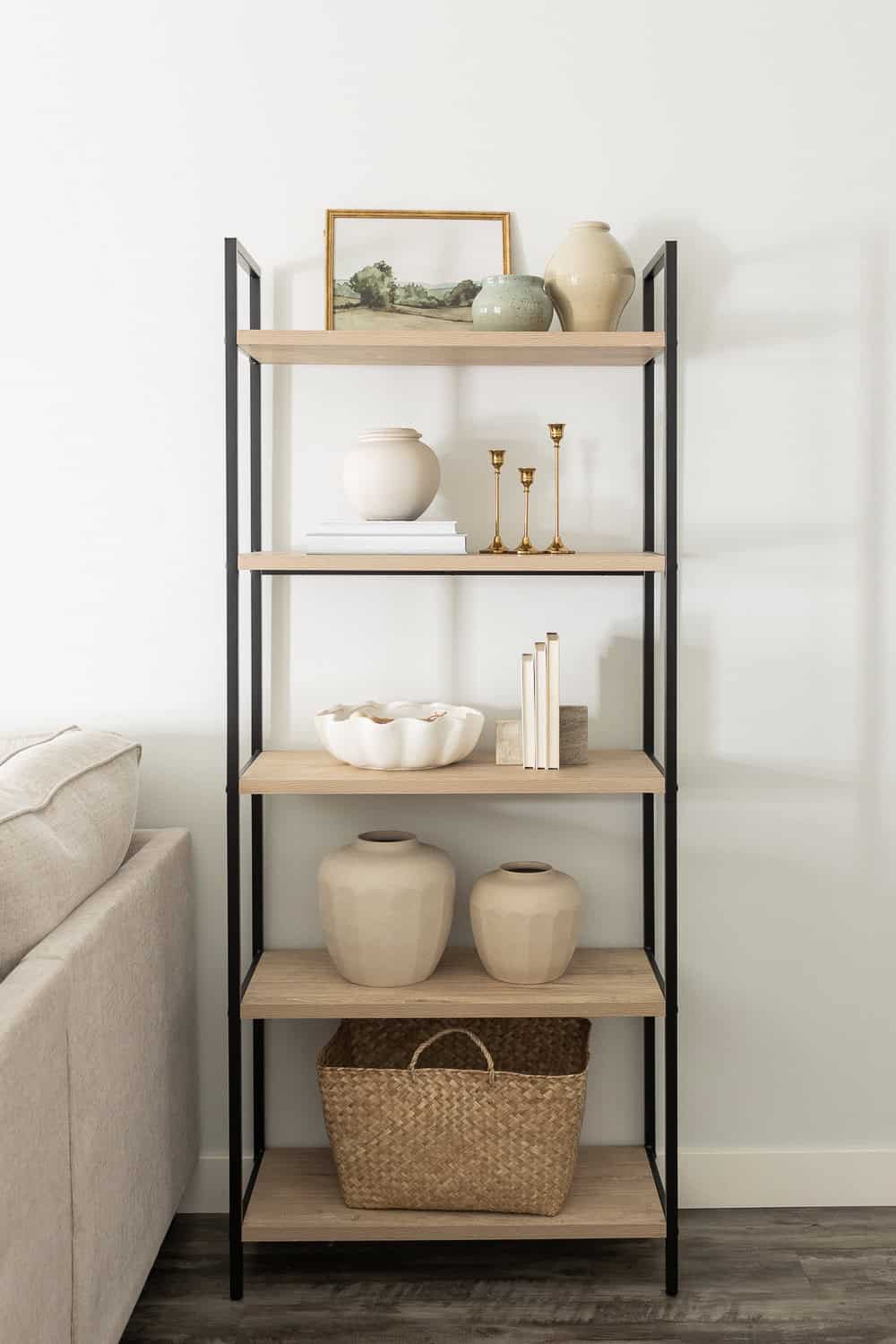 ---
Shop Shelf Decor
---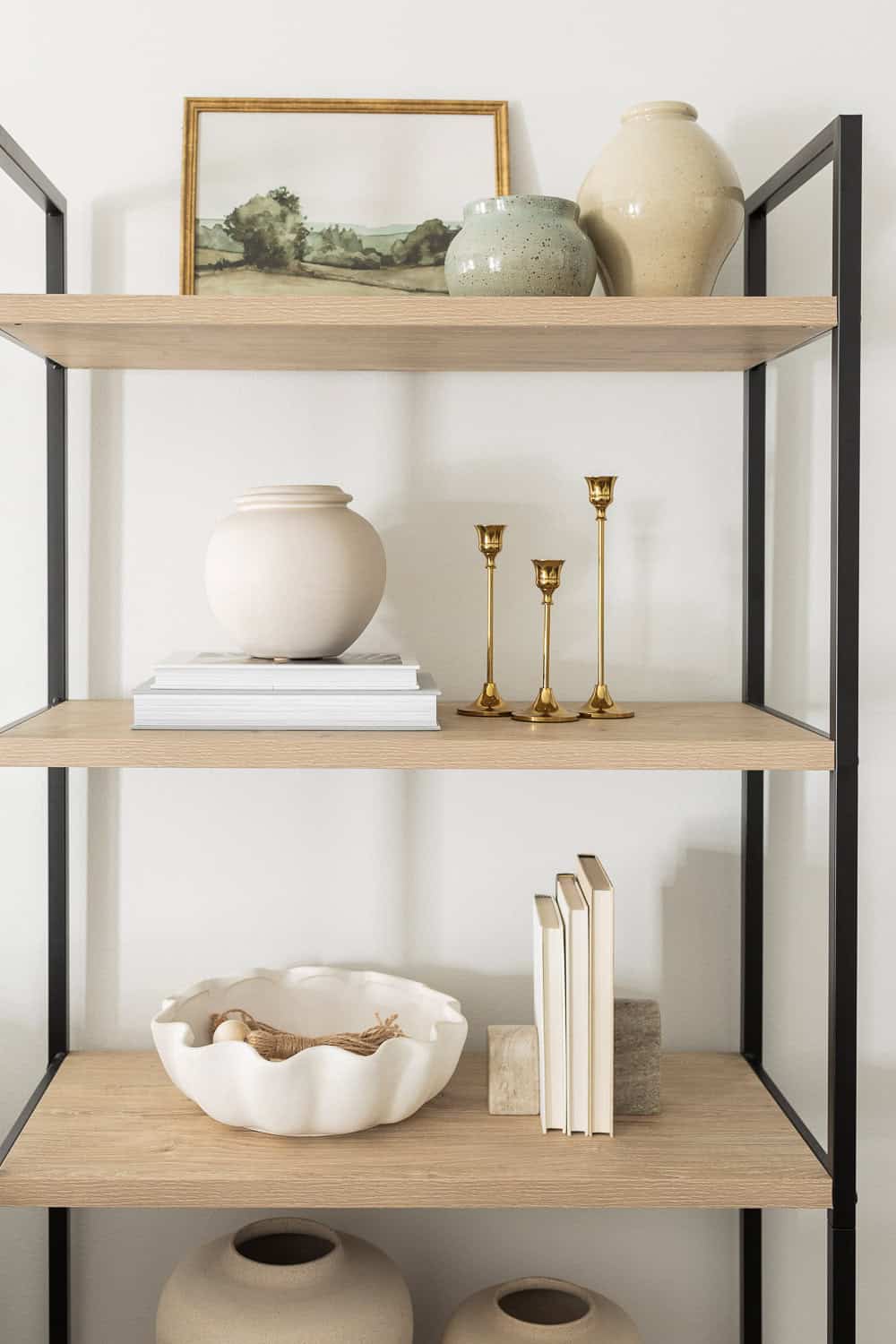 5 Tips for Styling Shelves
Here are five tips I like to follow when it comes to styling shelves! The first thing that I do is gather all the decor options that I have so I can see everything together and be able to easily pick out pieces that complement each other and follow these rules of thumb!
1. Choose a color palette (bright, neutral, moody, rustic) for consistency. For this shelf styling I chose to stick with a muted, neutral palette with a few pops of gold and spring colors. Gathering all of your options together before starting makes it a lot easier to choose pieces that stick to the same color palette!
2. Use different heights to lead the eye through the shelves and create visual interest. For example, try to place something low, like books or a bowl, on the same shelf as something taller, like candle holders or a tall vase.
3. Include a variety of wood, ceramics, metals, and woven textures. And make sure to incorporate the same texture 2-3 times throughout the shelves so everything flows nicely and nothing stands out!
4. Alternate shapes, colors, and textures on each shelf. I try to be conscious not to stack two sets of books right above each other, but instead diagonally from each other (as you can see in the photo above). In these shelf styling photos, you can see I have a variety of shapes from round vases, a scalloped bowl, rectangle books, arched book ends, a photo frame, etc.
5. Use large pieces to create a statement and group smaller pieces together in sections. I think it's easiest to think of each shelf in halves, where you have two sections to decorate – the left side and the right side. If you place a large bowl, basket, or vase on one half, then use smaller decor pieces like candle holders, bud vases, small plants, etc. on the other half to balance it out. One large piece on one half and several smaller pieces on the other! And another tip, it's pleasing to the eye to style things in groups of 3!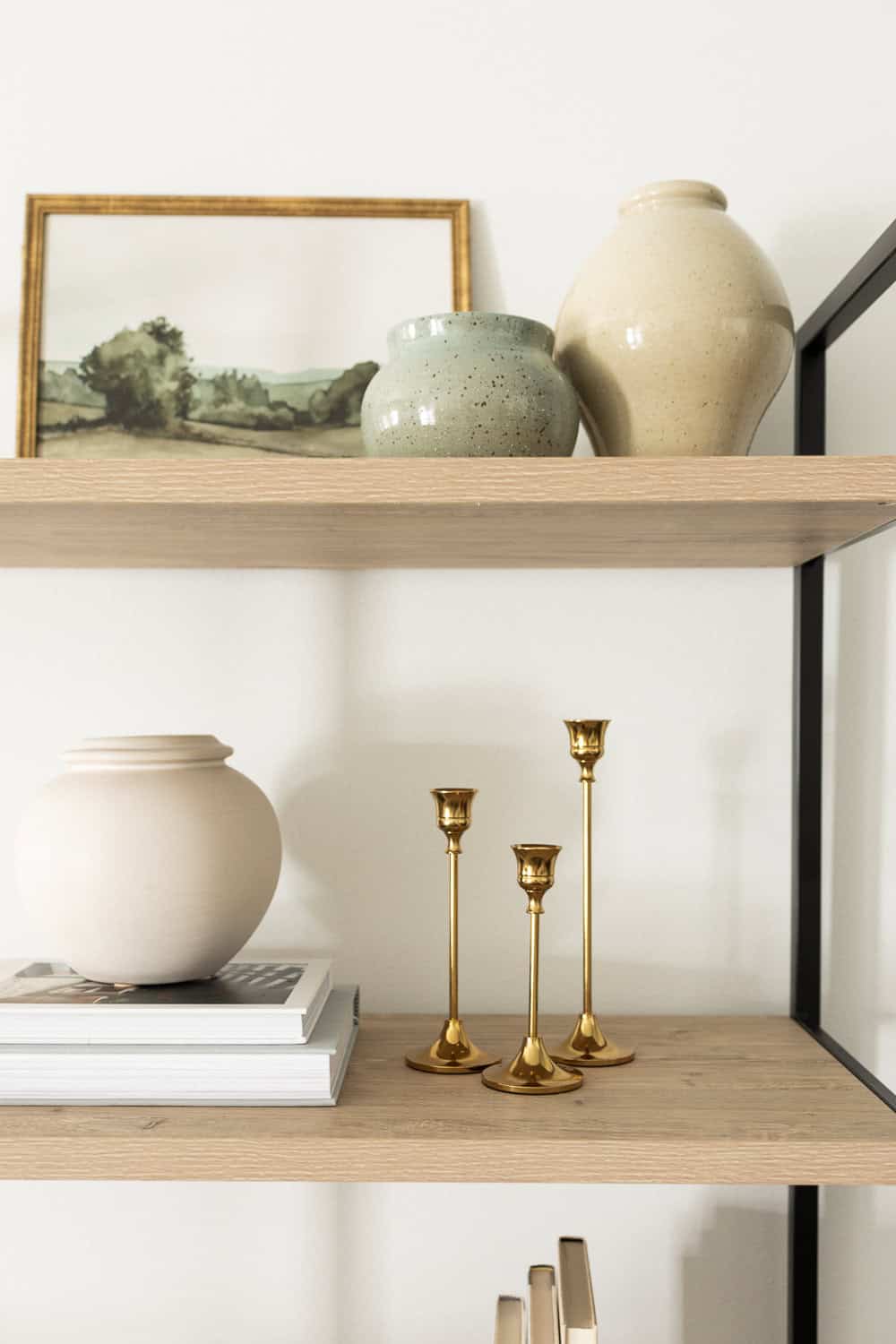 [RECENT POST: 2022 AMAZON BEST SELLERS]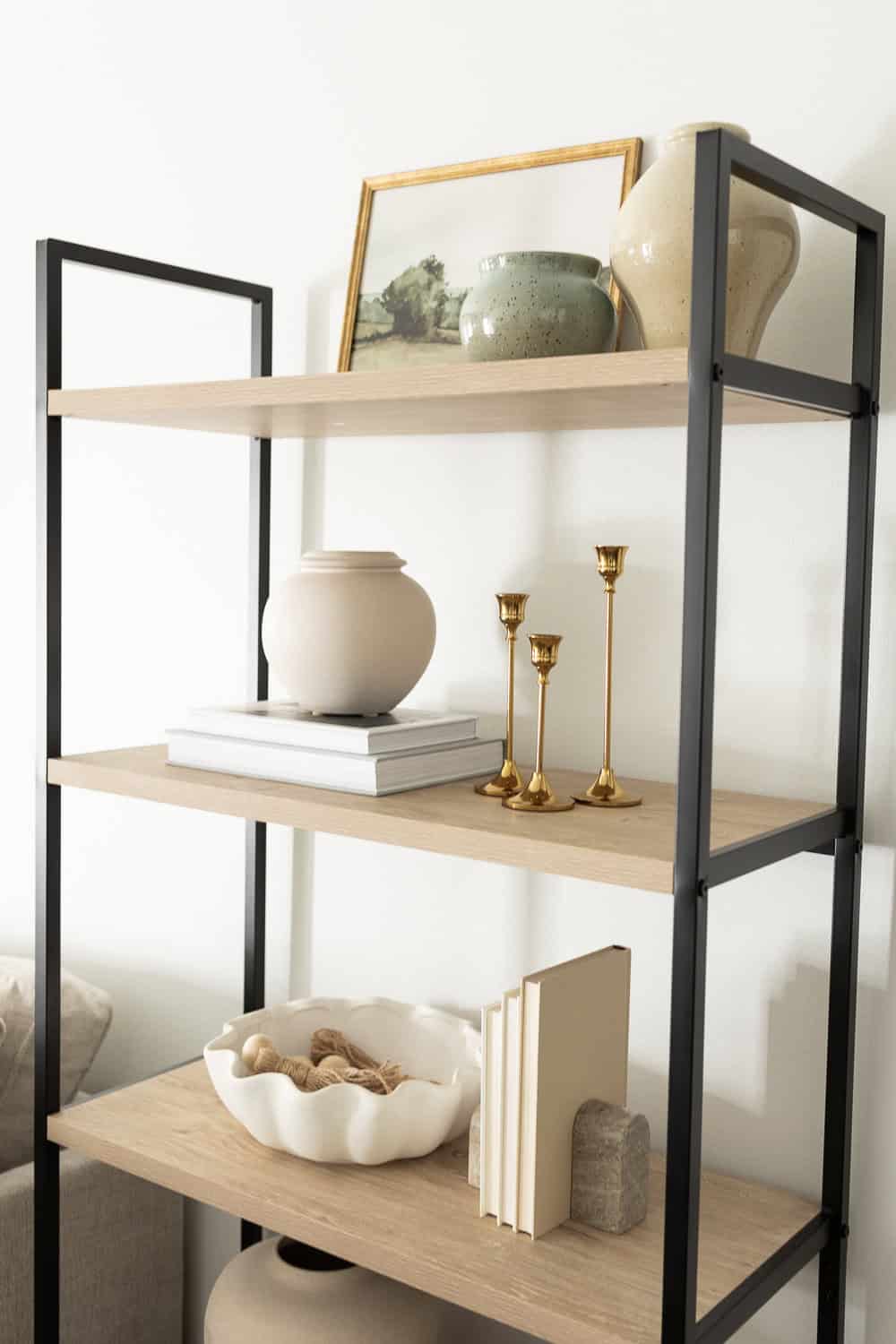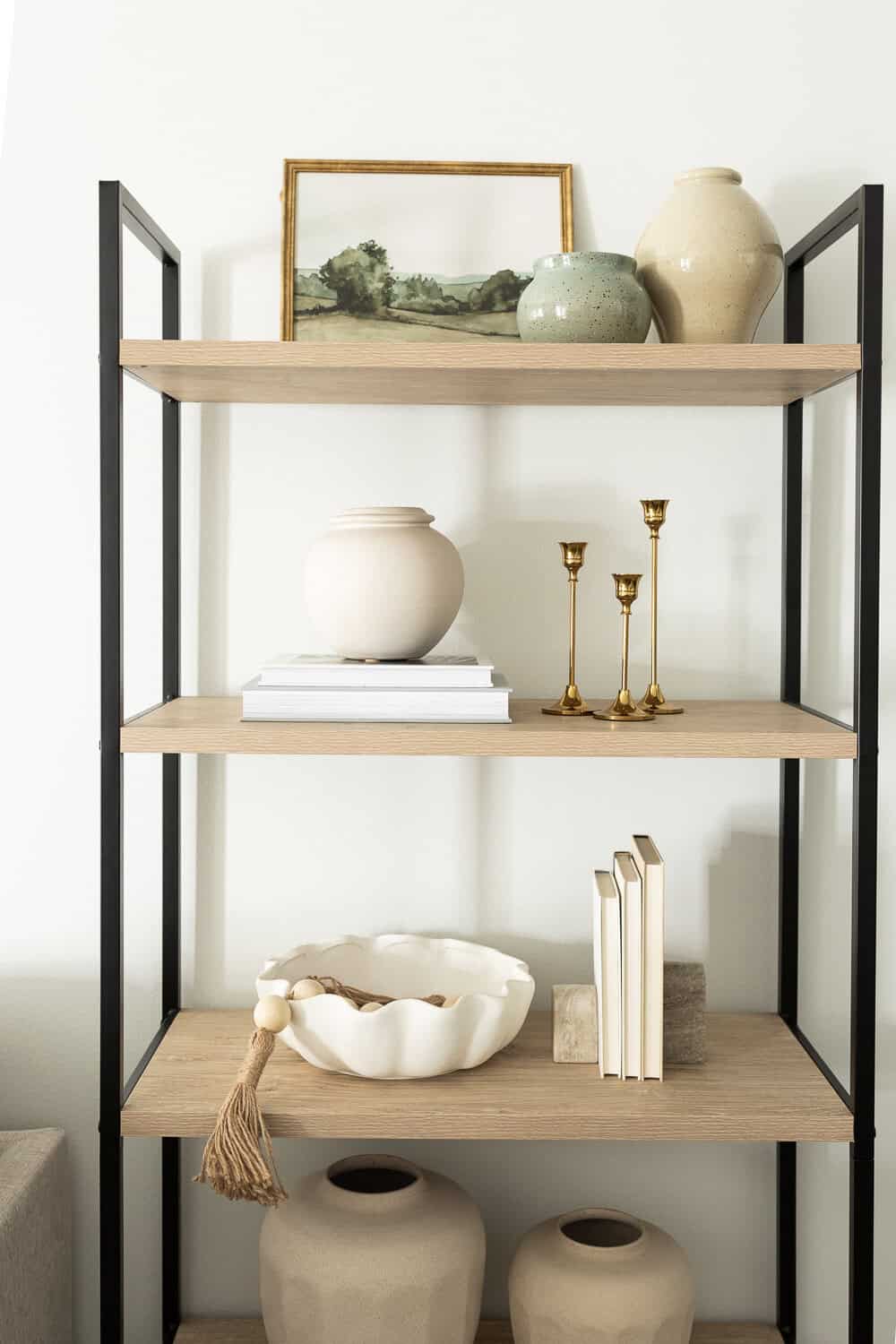 Shelf Styling Favorites
A few of my shelf styling essentials include vases, bowls, books, frames, and small decorative pieces. Here are some affordable styling pieces that I love from Target and Amazon!